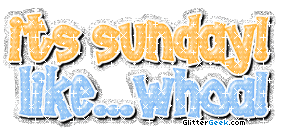 Time really does fly! It's hard to believe it's already March.
Anyway, on with my tale. Yesterday we had some bad weather here, it was very windy. It seemed as if the wall of our landlady's patio was going to fly off due to the high winds. Then the power went out, I didn't even have my cup of coffee yet. So after an hour or so, I checked outside to see if the winds calmed down. I am coffee addict in the morning, so the power outage really dampened my day.
Well, I was lucky, it's seemed ok, so we went out to burger king and had some breakfast. Then after that, we went for shopping and bought a few things that were on sale that time. Then it was eregs a power outage really dampened my day.straight to the thrift shop for more shopping lol :-)
When we went to the grocery, Jasmine was happy. Joy-joy was there with her dad doing there groceries, too. She asked if Joy-joy could play with her. Joy's dad said yes, of course he's still going to be busy anyway doing more errands. Jasmine was having a blast again playing with her best friend. We did have a great time yesterday even though the weather was terrible. But still we enjoy going out.
Well, that's it for now. Wishing you all have a great time with your family and friends. Thanks to everyone for passing by. God bless!
Ciao!