Heartfelt greetings to all my friends and family out there.

How is everyone doing this weekend? Mine is not bad at all. It's busy as usual, with Jasmine growing up. I spent most of my time with princess during the day doing many activities together. When she's taking her nap or watching her favorite cartoons, I'm busy with cleaning, cooking, and all those other things around the house that all mothers do.

Friday was the start of our snowy weather. It started early in the evening and accumulated very quick. When Jasmine saw it, she was jumping for joy. She ran and told me "Mommy, Santa sent a lot of snow." It was so cute; she told me Santa answered her wish. :-) I was a bit sad about the snow, but mostly happy for our little girl, Jasmine. I was worried about working in the snow, but it turned out great. I thought it would be harder going in and out with the groceries, pushing carts, but I was shocked to find it was not as bad as I thought. People even gave me better tips. :-) I guess they felt bad that we baggers were working in a snowstorm.

Well, after work hubby and daughter picked me up, we went to pick-up our family portrait. I was glad our family photos turned out great. The sales clerk even gave us a big discount on our photos for making hubby walk in the blizzard to get cash(they dont accept card cash only). I was quite thankful for his generosity. Now I can start making some Christmas greeting cards for all our friends and family.

After picking up the photos, Jasmine wanted her favorite kid's meal in burger king. After she had her dinner, we went out and found out it snowed badly again. As usual, Jasmine was enjoying it and had so much fun playing in the snow.

We woke up this morning with about 6 inches total snow. Jasmine's still over the snow and asked me if she could go out early in the morning. :-) I can't believe how happy and excited she was with winter and snow. She told me she wanted to go sledding, so I promised her we would go to have some fun, and bring her to a place where she could do some sledding.

I posted some pics on Bavarian Angel, my other blog.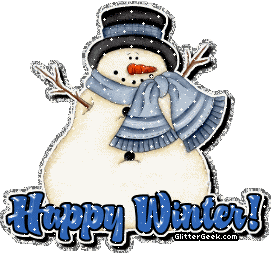 A view of our town during winter


Stolen shot of me waiting for Jasmine by the hill

That's it for today. Wishing everyone out there a happy weekend, stay safe this winter season. God Bless!
Ciao!